Nottingham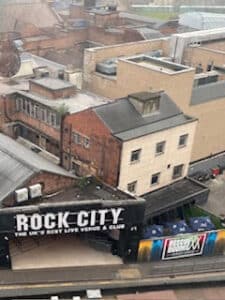 14th May 2023
We played THE RESCUE ROOMS last night and it was everything a band can ask for.
Clubs are best for rock bands, always were and still are. Clubs like THE RESCUE ROOMS (and next door's ROCK CITY) reaffirm everything we love about what we do and why we do it.
This is home for us.
XCH
What a week we had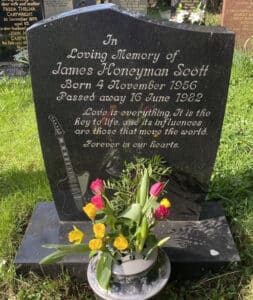 3rd April 23
HI all!
What a week we had. James and I got the train to Hereford to visit Martin in his barn, which he's been converting into a billiard hall and observation deck to pursue his favourite pastime - observing the local wildlife.
We also met up with Stan Tippins ( legend) original Pretenders tour manager ( and former Mott the Hoople member ) and Lynn Honeyman Scott, Jimmy's sister. We had a long chat about Jimmy's guitars. ( see previous recent blogs)
Unfortunately, it seems that all of the guitars, at least the ones we've been able to track down, are now in the hands of collectors, which is a real shame as those guitars would be happier ( as I'm sure Jimmy would be ) being played by guitar greats like Johnny Marr or James W. Johnny, in case you couldn't tell by his playing, was hugely influenced by Jimmy. In fact Johnny and I have been hanging out quite a lot lately and reminiscing about the time we spent together when he was in the Pretenders.
I include a picture of Jimmy's grave stone. It made me so happy to see that guitar players have visited it recently and left their plectrums/ picks on it.
If I could track down the guitar featured on the stone, I'd buy it back and give it to Johnny Marr, but the price might be prohibitive if it's the hands of one of those (evil) collectors. Guitars should be played. (That's what mine seems to say every time I walk past it while it's collecting dust. Shame on me).
All the best to everyone out there reading this, and thanks for your enthusiastic response to our announcement of upcoming dates.
And how cool is it to be supporting the Mighty Guns N' Roses at Hyde Park!
See you there!
XCH
*While writing this, I received the sad news that Seymour Stein has passed away. Everyone the world over owes a tremendous dept to the man. A true music lover who supported all of us and had an encyclopaedic knowledge of every genre of music.
Thank-you Seymour!
Bless you!
We started our mini-tour yesterday in Manchester, UK
Hi all!
We started our mini-tour yesterday in Manchester. U.K. What a great town! Hung out in the Manchester Art Gallery all morning. Great exhibition (and not a bad pear upside-down cake in the caff) .
We played The Deaf Institute, which is the perfect venue in my opinion. Really fun audience, who I would like to thank once again for coming out to see us. (Especially the crazies who came all the way from the states for some godforsaken reason).
It's good to see the diehards, especially after them barren lockdown years. Reminds me that people still want to see a basic four- piece rock band, devoid of mental light shows and stadium style smoke and mirrors. The stage was so small we were stepping on each other's toes, just like I like it.
However, pretty soon we WILL have to get out of clubs and into theatres, because if we want to take trains and stay in decent hotels ( and who wouldn't)? we can't keep playing small clubs as much as we love them. (Alternatively we could bring the ticket prices up from 25 quid to 750, but that would rather defeat the whole small gig ethos).
I think it goes without saying that we don't have even have a wardrobe mistress or anyone to do our hair and make-up. ( okay, you don't have to agree so readily)!
We are here, after all, to represent you, not the fashion industry, or the vomit-inducing Grammy culture.
The sad news is that Meg Keene, my old school pal from Akron Ohio, passed away last week. You will remember her for her songwriting excellence. Hymn To Her was just one of her fantastic catalogue (which nobody has heard). I think we also did one called Spirit of Life somewhere along the line. James and I were listening to some of her songs a couple years ago and planned on doing another one, but we haven't got around to it yet.
So, rest in peace, darling Meg. Your music continues to bring joy.
XCH.
Hey, has anyone heard…
16th Jan 23
Hey, has anyone heard John Rotten's entry for the Eurovision song contest? I can't stop listening to it - it's fucking amazing!
I saw P.I.L. at a festival a few years ago and they were great. John in excellent form. But this song is a real surprise.
XCH
https://youtu.be/UXwB0HqZDXg
*Opps……I mean Lydon !
The guitar heroes guitar hero has gone off to join all the best players.
11th Jan 23
A true and loyal friend.
I'll love you always Jeff,
Chrissie
Vivienne
29th Dec 22
Vivienne is gone and the world is already a less interesting place. Love you Viv.
Chrissie
Terry
22nd Dec 22
We played the Arroyo Seco show in Pasadena a couple years ago.  Neil Young was headlining.  I was with my 'date' bill burr - (my favourite comedian) and we were standing at the side of the stage watching Jack white when I realised the Specials were about to start up on another stage.  I dragged Bill away from watching White even though I could see he wanted to stay (I found out that bill burr is quite the gentleman ) and we tore through the crowd to get a good place to watch The Specials. They absolutely were the best thing on the festival.  Better than The Pretenders better than Jack White and even Neil.  (Sorry guys but they were )
So now Terry Hall has joined the ranks of the dearly departed.  I hope he can find James Honeyman Scott and write a few tunes up there.  I'm looking forward to it.
XCH
Arms Around the Child
We're delighted that Chrissie's painting 'Half-Hour Flower' is being auctioned to raise money for
Arms Around the Child
Artists from around the globe have donated their work to the art auction in aid of
Arms Around the Child
, a charity that provides children in Africa and India, who are directly or indirectly affected by HIV/AIDS, orphaned, abandoned or abused, with much‐needed homes, safety, education, healthcare and community.
You can get involved and find out more here:
https://theauctioncollective.com/.../half-hour-flower.../
-CHHQ
Sir Peter Blake – A Concert Celebrating his 90th Year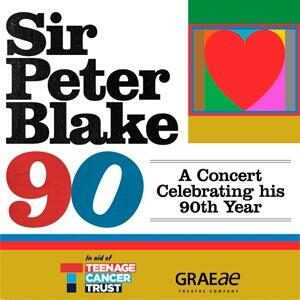 We're pleased to announce Chrissie will be performing at the Royal Festival Hall London on 2nd December 2022 in celebration of Sir Peter Blake's 90th year. All proceeds from the event will be split between Teenage Cancer Trust and Graeae Theatre Company.
Pre-sale tickets available 9am BST Wednesday 19th October here:
PRE-SALE TICKETS
2023 Calendar Now Available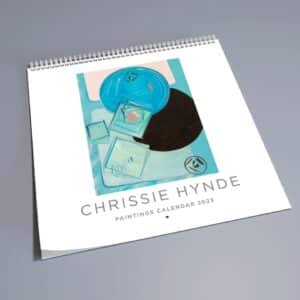 Now available to preorder for delivery in December!
Exclusive! 
A 2023 wire bound 12 x 12 inch wall calendar of Chrissie Hynde's paintings with silk finish on interior and exterior. 
Buy Now